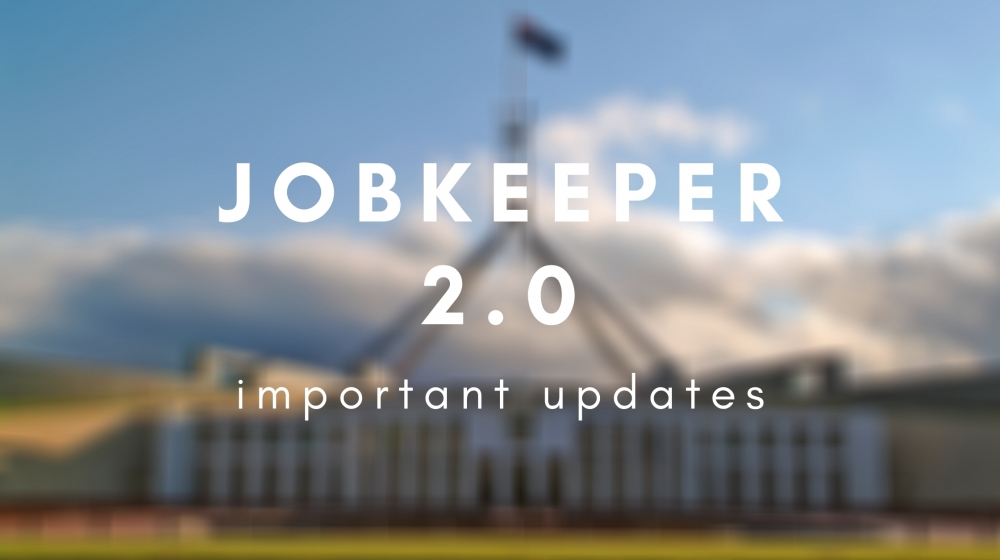 JobKeeper 2.0 - Important Updates
On the 7th August, the government announced some important changes to JobKeeper 2.0 eligibility requirements.
These changes are yet to be legislated and may be subject to change. Parliament is sitting from 24th – 27th August so we will have further information after this period.
I am currently receiving JobKeeper, has anything changed?

If your business currently receives JobKeeper, your arrangements will generally remain unchanged until 27 September 2020. From 28 September 2020, employers seeking to claim JobKeeper payments will need to reassess their eligibility and prove an actual decline in turnover.
I have a new employee who commenced employment after 1 March 2020 but before 1 July 2020, can I claim JobKeeper for this employee?
From 3 August 2020 to 27 September 2020, you can start claiming JobKeeper payments for eligible employees who commenced employment between 1 March 2020 and 1 July 2020. You must top up your eligible employee's wages to $1,500 per fortnight by 16 August 2020 to be eligible. Casual employees are still required to be long-term casuals (employed on a regular and systematic basis for at least 12 months).
What eligibility criteria do I have to meet after 27 September 2020?
 
To receive JobKeeper payments from 28 September 2020, businesses will need to meet the basic eligibility tests (if you are receiving JobKeeper now you have already met these) and an extended decline in turnover test based on actual GST turnover. 
New eligibility criteria announced on 7th August: 


Old eligibility criteria – no longer applicable: 


What are the payment amounts after 27 September 2020?
 
The payments rates for JobKeeper 2.0 are set to reduce from 28 September and 4 January as previously announced. JobKeeper payments from 28 September 2020 are paid at a lower rate for employees who worked less than 20 hours per week on average in the four weeks of pay periods before 1 March 2020.
 

12 Aug 2020
Return to Blog